Free camping and campgrounds
WYOMING CAMPGROUND DIRECTORY
SHOSHON NATIONAL FOREST
HWY 352 WYOMING
GREEN RIVER LAKE ROAD
Dispersed and Primitive Camping
Wyoming is the land of the big blue sky,
but not a lot of free campgrounds. There
are a lot of campgrounds you have to pay
a fee. If you follow Hwy.352 to Green River
Lake, you will find camp areas all along the
road, most with firepits. If you go towards
the end of the road there are majestic mountains
of stone worth taking photographs. Eventually
you arrive at Green River Lake Campground,
but they charge a fee.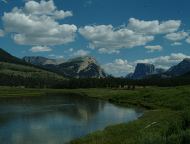 Green River Lake Road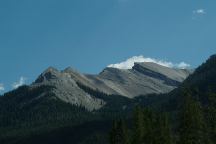 Green River Lake Road
The road follows along the river's banks
with mountain views.
DIRECTIONS:
From Pinedale
Take Hwy.191 north about 5 miles
There is a sign marking Hwy 352.
Go north on Hwy 352 until the pavement ends.
There are camping spots along the Green River
for the next 10 or 15 miles. You have to go about
6-7 miles before hitting shade spots.
Showers located at Grand Teton
Showers at Yellowstone National Park.
Least priced gas was about 130 miles south
in Evanston. You'll save about 30 cents per gallon.
Camped here Aug 5, 2005
CAMPGROUND INDEX
Complete free campground listing


www.eugenecarsey.com
dispersedcampgrounds.com
Free camping and campgrounds
WYOMING CAMPGROUND DIRECTORY
SHOSHON NATIONAL FOREST
GREEN RIVER LAKE ROAD