Free camping and campgrounds
MONTANA CAMPGROUND DIRECTORY
HUNGRY HORSE RESERVOIR
FLATHEAD NATIONAL FOREST
FOREST CREEK CAMP
Dispersed and Primitive Camping
Located on the southwest shores of
Hungry Horse Reservoir are a couple
camp spots that are free. We stayed at
Forest Creek Campground. You will
see a sign saying Forest Creek Road.
About a hundred yards north is an
unmarked road that leads down to
the lake and you can camp right on
the shoreline. It is an official camp
with a notice of 14 day limit.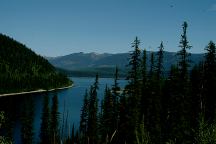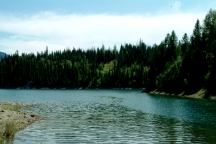 The complete loop around Hungry Horse
Reservoir is over 100 miles of mostly dirt
roads. It is hard to find free camps along
the lake shore.

DIRECTIONS:
Hwy.2 about a mile east of Hungry Horse
Sign pointing to Hungry Horse Dam.
Forest Creek Road is about 40 miles.
The road to the camp is about 100 yards
It is kind of rough and narrow, might walk
the road first if any doubts.
NOTE:
There are more good camps with less people
at Coal Creek Bridge. If you take the road up
the west side of Glacier National Park, Coal
Creek is about half way to Polebridge. There
is a sign as you cross the bridge, but you
wouldn't know there was camping allowed
unless you pull off the road, then you'll see
the grizzly bear warnings.
CAMPGROUND INDEX
Complete free campground listing


www.eugenecarsey.com
dispersedcampgrounds.com
Free camping and campgrounds
MONTANA CAMPGROUND DIRECTORY
HUNGRY HORSE RESERVOIR
FLATHEAD NATIONAL FOREST
FOREST CREEK CAMP