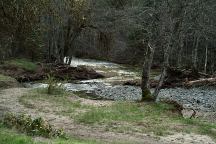 Elderberry Flat Campground
Elderberry Flat is an established BLM campground.
There is a creek running through the campground.
Picnic Tables
Metal Firerings
Vaulted Toilets
Garbage Receptacles.
14 Day Limit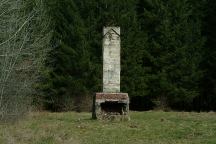 Photo of old chimney at Junction of
Road #36 and Snow Creek Road
On Snow Creek Road near the Junction of
Road #36 you will see the old chimney. There
are areas you can camp in the surrounding fields.
There are several side roads where you can
find some good spots to pull off and hide.
FIRE RESTRICTIONS
It is your responsibility to know what fire
restrictions are in place. Axe, shovel, and
5 gallons of water might be required when
camping. A fire extinguisher and pair of
leather gloves recommended.
DEVIL'S FLAT CAMPGROUND
$6.00 per night.
Picnic tables, metal firerings, outhouse, and
garbage receptacles. Devil's Flat Campground
is on Road#36 east of Anchor.
DIRECTIONS:
From Medford take I-5 north to Azalea/ Exit 88.
Take Road#36 past Anchor.
Turn right on Snow Creek Road.
Elderberry Flat Campground is about 15 miles.
Water at Rest Areas along I-5
Showers at Valley of the Rogue SP
I-5 Exit 45B / Between Medford and Grants Pass
Cost $2.00
Camped here April 6, 2006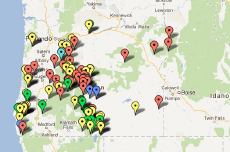 Google Custom Map by Ian
OREGON FREE CAMPGROUND MAP
Google custom map by Ian with most of the
free campgrounds in Oregon.

CAMPGROUND INDEX
Complete free campground listing


www.eugenecarsey.com
dispersedcampgrounds.com
Free campgrounds and camping
OREGON CAMPGROUND DIRECTORY
ELDERBERRY FLAT CAMPGROUND