If you are driving down the road to Ski Bluewood,
you will see a big paved pullout with an outhouse.
About another hundred yards there is a dirt road
to the left and this is where we camped. There is
a creek with lots of trees and fresh air making this
a good place to be. You feel like you are a million
miles from civilization.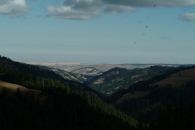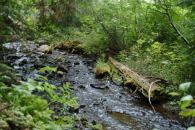 Didn't get any good photos from the actual camp.
The first image is from top of the mountain (the camp
is down in the valley). The second image shows the
creek that is running beside the camp.
DIRECTIONS:
From Walla Walla
Take Hwy.12 to Dayton.
At the east end of Dayton is a sign
that says SKI, with an arrow. Follow
this road about ten miles and there are
good campsites at almost every pullout.
CAMPGROUND INDEX
Complete free campground listing
Camped here Sept. 12, 2005


www.eugenecarsey.com
dispersedcampgrounds.com
Free campgrounds and camping
WASHINGTON CAMPGROUND DIRECTORY
UMATILLA NATIONAL FOREST
SKI BLUEWOOD