IT IS YOUR RESPONSIBILITY TO
KNOW WHAT FIRE RESTRICTIONS
ARE IN EFFECT
Recommended Equipment
• Shovel with 8" blade and at
least 26 inches long
• 5 gallons of Water
• Axe
• A fire extinguisher is recommended.
• A pair of leather gloves are a good idea.
Above equipment may be required by law.
Never leave your campfire unattended.
Extinguish with water only. Covering
with rocks and debris is ineffective.
Make sure your fire is completely extinguished
After thoroughly drowning the fire with water,
stir and feel... hold hand over coals to be sure
the fire is completely extinguished.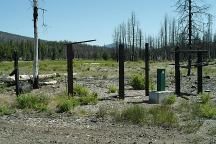 This used to be a campground...
Don't burn or start a campfire in windy
conditions.
Use existing fire rings when possible.
When building a campfire clear the area
of combustible materials, such as pine
needles, dry grasses, and vegetation.
Keep fires small and reasonable sized.
Use only down and dead wood for camp-
fires, unless otherwise restricted. (Snags or
dead standing trees are home to wildlife)
Never use gas or flammable liquids to start
your fire. Crumple some newspaper with
kindling.
Supervise all children and pets to prevent
any accidents.
Don't wear flammable or loose clothing
near a fire. Know how to put out a clothing
fire. STOP, DROP and ROLL.
Buy only a flame-resistant tent.
Tents should be 15' or more from campfire.
(Tents should be upwind so sparks don't
blow onto it)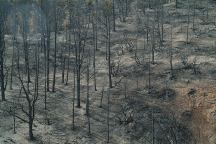 Forest fire on Lockwood Valley Road
TIP:
We save the melted ice water from the
cooler to extinguished the fire, instead
of using the valuable drinking water.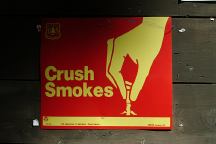 These are old school rules telling you
to litter. Cigarette butts are considered
littering, not that it would be the worst
thing in the world.
In extreme fire conditions smoking may
be forbidden or restricted to vehicles.
Only smoke in areas clear of combustible
materials.

In recent years the fire dangers have increased
and the fire restrictions are more stricter, in
some cases there have been complete fire bans.
(Including smoking cigarettes, ect.)