Above image with US Flag is from
Prineville City Hall on July 10, 2006
These images could be from almost
any day, chemtrials are dispersed
over Central Oregon on a regular
and daily basis.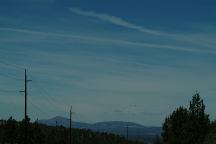 Chemtrails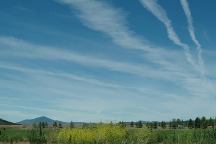 Chemtrails
It is amazing how many people can't see chemtrails.
If you try to tell most people these are not real clouds,
they will call the police, thinking you just escaped from
the mental hospital.
THERE ARE NO REAL CLOUDS
IN ANY OF THE ABOVE IMAGES
Also see: JULY 9, 2006