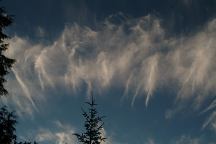 Funny Cloud
This cloud stretched from horizon to horizon,
about 20 miles long... there wasn't another cloud
in the sky.
It is amazing how many people can't see chemtrails.
If you try to tell most people these are not real clouds,
they will call the police, thinking you just escaped from
the mental hospital.
THERE ARE NO REAL CLOUDS
IN ANY OF THE ABOVE IMAGES