Free camping and campgrounds
ARIZONA CAMPGROUND DIRECTORY
DOME ROCK MOUNTAIN
QUARTZSITE ARIZONA
Dispersed and Primitive Camping
LATITUDE: N 33°38.599
LONGITUDE: W 114°18.366
(GPS from random campsite near Dome Rock)
Dispersed and Primitive Camping
Dome Rock Mountain is west of Quartzsite.
You can camp almost anywhere out in the desert.
During the winter Quartzsite hosts the world's
largest flea market. We have also heard it
referred to as "The million man Flea Market."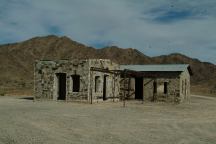 Cholla Road
LATITUDE: N 33°38.264
LONGITUDE: W 115.735
Desert environment with cactus.
Bring your own water.
There will be what seems like a million RV's
during the winter months. Actually it is officially
estimated in the tens of thousands. When camping
in this area during the summer you might not
see another person.
U.S. Bureau of Behavioral Corrections
Considering the barren aspect of the desert
it is not recommended to build any firerings.
Enjoy a pristine campfire free of walls of
rock. Stone firerings are frowned upon by
BLM and the Forest Service.
14 Day Camping Limit