IDAHO CAMPGROUND DIRECTORY
PASS CREEK ROAD
FOREST SERVICE ROAD 122
CHALLIS NATIONAL FOREST
LATITUDE: N xx°xx.xxx
LONGITUDE: W xxx°xx.xxx
Dispersed and Primitive Camping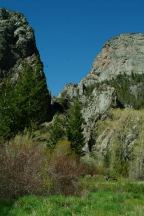 Pass Creek
There is an Forest Service Campground and
several primitive camp areas on Pass Creek Road
and with great views is worth time to explore.
The established campground is in a canyon.
The camp sites are situated on the creek.
This is a great campground and the only
complaint would be that the camp sites are
too close to the road, but since there wasn't
much traffic, it didn't make much difference..
Picnic Tables
Metal Firerings
Vaulted Toilet
The outhouse is located towards the west end
of the campground
As mentioned above, there are several dispersed
camp areas along Pass Creek Road. Limited
information at the present time, but you will
be able to see were other people have
previously camped.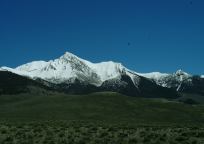 Hwy 93 about 20 miles north of Pass Creek
Borah Peak is the highest point in Idaho.
DIRECTIONS:
Hwy 93 near Darlington, Idaho.
You will see the signs...
Couple miles of dirt roads that wind
through the canyons.
From the SE, stay left at Howe and there
are signs that clearly mark Pass Creek Road.
The main Forest Service campground is about
22 miles, but there are dispersed camp areas
along the road.
ROAD CONDITIONS:
Dirt and gravel roads.
Camped here May 24, 2005.
Camped here August 30, 2005.


www.eugenecarsey.com
Free campgrounds and camping
IDAHO CAMPGROUND DIRECTORY
CHALLIS NATIONAL FOREST
PASS CREEK ROAD